A flash ready modern shared storage array, the HPE MSA 1050 SAN Storage delivers cost-effective and affordable flash storage to even the most cost sensitive customers. Designed to meet entry-level storage requirements, the systems in this range are ideal for small to medium sized businesses requiring a vast range of features for a low price.
Brand new, completely free MSA Health Check tool which delivers insight into the health condition of the users MSA array.
New MSA variants are available for EMEA, that are in compliance with EU Commission Regulation No 2019/424.
New 960GB and 1.92TB Read Intensive SSD.
Affordable, Flash-ready Storage
The HPE MSA 1050 SAN Storage base unit comes factory-configured with dual-controller arrays, four host ports delivering 8 Gb Fibre Channel, 1GbE iSCSI, 10GbEiSCSI or 12 Gb SAS.
By moving towards a modern flash-ready array you enjoy enhanced performance and decreased latencies. With advanced data services and a little investment in flash, your business can be taken to a whole new level.
Simple, Easy, Proven HPE ProLiant Gen10 Server Compatible Shared Storage
The HPE MSA 1050 SAN Storage delivers affordable, easy to use shared storage without the steep learning curve. Its intuitive setup and management for HPE ProLiant Server administrators make it a smooth and easy experience.
Advanced Virtualisation Servers, Simplified Licensing Approach
The systems in this range leverage flash with simple to use and effortless to maintain tiering and read cache technologies.
With zero storage expertise required, this system responds dynamically to workload changes so you don't need to.
Easily Expand and Upgrade to Meet New Demands
You are able to add extra HDDs or disk expansions to your HPE MSA 1050 SAN Storage, or utilise data-in-place upgrades.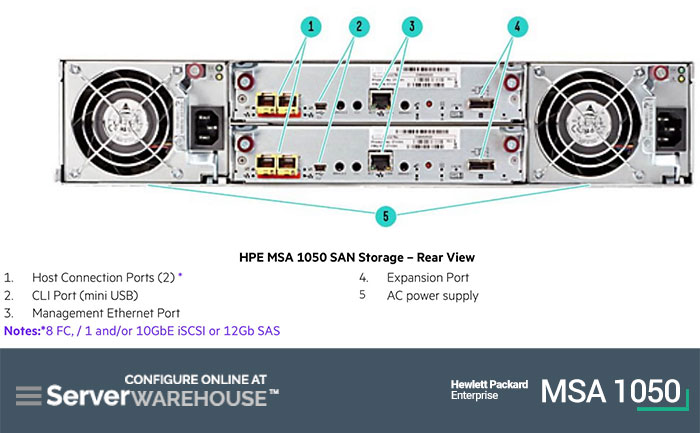 Technical Specifications
Capacity
672 TB maximum including expansion, depending on model
Drive Description
96 SFF or 48 LFF Maximum including expansion, depending on model
Host Interface
8 Gb Fibre Channel, 4-ports per system or 1 Gb iSCSI, 4-ports per system or 10 Gb iSCSI, 4-ports per systemor 12 Gb SAS, 4-ports per system, depending on model
Storage Controller
(2) HPE MSA 1050 2-port 8 Gb FC Controllers or (2) HPE MSA 1050 2-port 1 Gb iSCSI Controllers or (2)HPE MSA 1050 2-port 10 Gb iSCSI Controllers or (2) HPE MSA 1050 2-port 12 Gb SAS Controllers,depending on model
Storage Expansion Options
HPE MSA 2050 SFF Disk Enclosure or HPE MSA 2050 LFF Disk Enclosure
Clustering Support
SAN Backup Support
Storage Mirroring Support
Systems Insight Manager Support
Compatible operating systems
Microsoft Windows Server 2019, Microsoft Windows Server 2016, Microsoft Windows Server 2012, Red HatLinux, SuSE SLES Linux, VMware, HP-UX. Detailed information available at:http://www.hpe.com/storage/spock
Form Factor
Minimum dimensions ( H x W x D)
Weight