The premier in affordable flash storage, HPE MSA 2052 SAN Storage is a hybrid flash system designed and built for affordable application acceleration. Despite its low cost, it delivers flexibility and a variety of advanced features well beyond expectations for an entry-priced array.
With 1.6TB flash capacity, scale as required with any combination of SSDs, high performance enterprise or more cost-effective midline SAS-based drives. An industry-leading entry storage Fibre Channel platform for almost a decade, the HPE MSA 2052 SAN Storage is ideal if you are looking for a high performance, cost-effective option.
This range offers a wide range of new features, including:
Free online MSA Health Check tool which delivers insight into the overall health of your MSA array.
New MSA variants available for EMEA that are in compliance with EU Commission Regulation No 2019/424
New 960GB and 1.92TB Read Intensive SSD
New 14 TB LFF HDD and 6 pack bundle
Affordable Application Acceleration
This system performs more than 200,000 IOPS, providing amazing application acceleration for small and medium-sized businesses. Combining high performance with low cost, this system delivers twice the performance of the previous generation HPE MSA 2042 SAN Storage.
Advanced Data Services - Zero Experience Required
Simply to install, easy to use and effortless to maintain, the MSA 2052 SAN Storage requires no previous experience. Automated tiering responds to workload changes dynamically, taking that responsibility off your shoulders.
Keep Your Business Running with Expanded Data Protection Features
Airtight data protection and instant recovery is made possible by virtualised snapshot technology. Disaster recovery is affordable, supported by remote replication with Fibre Channel and iSCSI.
Flexible Growth into The Future
The HPE MSA 2052 SAN Storage provides data-in place upgrades safeguarding drive investments and reducing data migration. You can start small and scale as required with any combination of SSDs, enterprise or midline SAS disk drives.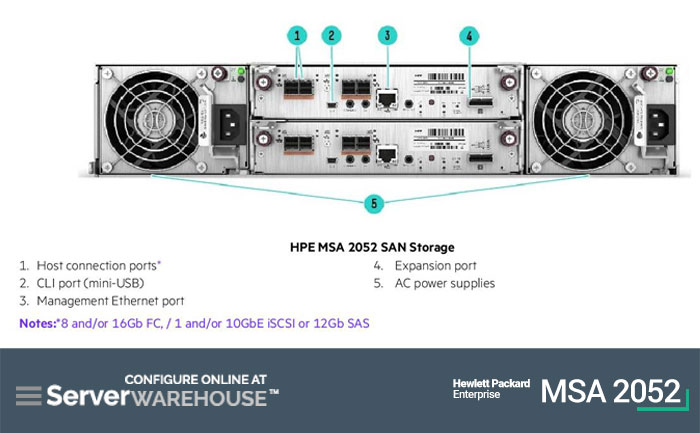 Technical Specifications
Capacity
614 TB SFF or 1342 TB LFF, maximum raw capacity depending on model
Drive Description
192 SFF SAS/MDL SAS/SSD or 96 LFF SAS/MDL SAS/SSD, maximum including expansion, supported,depending on model
Host Interface
16 Gb/8 Gb Fibre Channel (8) Ports per system,1 GbE/10GbE iSCSI (8) Ports per system or 12Gb SAS (8)Ports per system, supported
Storage Controller
(2) HPE MSA 2050 SAN Controller or (2) HPE MSA 2050 SAS Controllers, supported, depending on model
Storage Expansion Options
HPE MSA 2050 LFF Disk Enclosure or HPE MSA 2050 SFF Disk Enclosure
Clustering Support
SAN backup support
Systems Insight Manager support
Compatible operating systems
Microsoft Windows Server 2019, Microsoft Windows Server 2016, Microsoft Windows Server 2012, MicrosoftWindows Server 2012 R2, Microsoft Windows Hyper-V, HP-UX, Red Hat Linux, SUSE Linux, VMware ESXi,OVMS. Detailed information available at: http://www.hpe.com/storage/spock
Form Factor
Minimum dimensions ( H x W x D)
Weight